Ammunition
Only empties without Fuzes
Kalyani Group has supplied more than 2 million ready to fill shells to Ordnance Factories and DRDO in the range of 70 to 155mm covering all variants including HE, smoke, illuminating and incendiary. It has been the development partner to HEMRL, ARDE & BDL for development of shells, rockets & bombs and enjoys a long standing successful partnership with all these agencies. 

120mm Mortar Bodies

155mm Artillery

Incendiary Shells Shells: M107

500 Kg GP Bomb

Glide Bombs

70 mm Rocket Warhead

Artillery Shells of various types 70 – 155mm
FSAPDS
120mm FSAPDS Mark II is a DRDO designed prime ammunition for the indigenously developed 120 mm ARJUN Tank.
It is the first time in India that a Private Sector Company was entrusted with and has successfully manufactured this ammunition.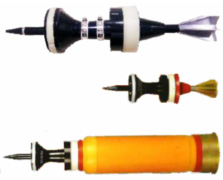 120mm FSAPDS MK-II