JV, Group Companies & Subsidiaries
We believe in expanding horizons through JVs & partnership for better synergy and control.
We strengthen our capabilities by making alliances with different companies across India and around the world. Be it engineering, infrastructure or defence systems, we are committed to excellence. 
Through a dedicated and focussed approach-that is equally agile and reliable Kalyani Group is fast realizing the aim of becoming a leading defence player in the world and your preferred partner.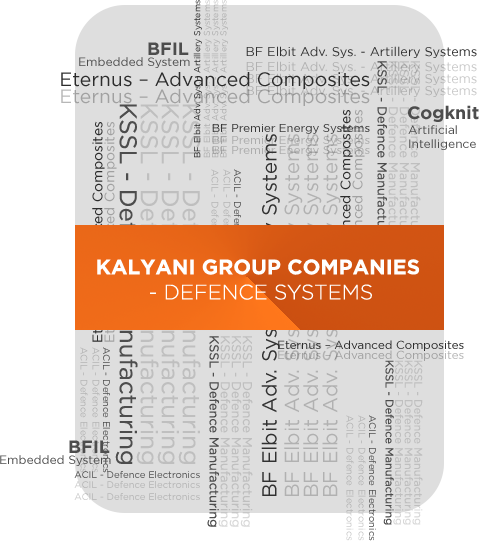 Kalyani Group Companies - Defence Systems

KSSL - Flagship Defence Company

Eternus – Advanced Composites

BF Premier Energy Systems

KRAS - Missile Manufacturing

ACIL - Defence Electronics

Aeron Systems – INS & IOT Sensors

BFIL – Embedded System

Cogknit – Artificial Intelligence

SMTL - SM Technologies Limited

KSSA - Kalyani Strategic Systems Australia

BF Elbit Adv. Sys.